MB Funds to support the growth of TietoAkseli
TietoAkseli, a Finnish accounting services company, gets MB Funds, a private equity company with over 30 years of experience, as its main owner in the transaction signed on 30 April 2021. The founders of TietoAkseli, Mikko and Sari Akselin and their children Samuel and Elisa Akselin, remain as significant shareholders in the company and Samuel Akselin continues as the CEO
Mikko and Sari Akselin established TietoAkseli in 1991 and since then the company has operated as a professional services partner for small and medium sized companies. TietoAkseli is strong in combining high caliber experts, scalable services and latest technologies. The company is driven by high-quality in operations and customer-centric approach. As a Finnish family business, the company wants to offer a personal service to its clients.
Today, TietoAkseli has net sales of 10 m€ and the company employs 140 professionals. TietoAkseli provides its customers with financial administration and accounting, HR and payroll services as well as auditing and transaction advisory services. The mission of the company is to create added value and to support its customers in reaching their business targets.
"TietoAkseli is one of the leading providers of accounting services in Finland. The company has a strong desire to develop and transform its operations and service offering. This allows TietoAkseli to be, now and in the future, the best forum for its customers and its professional team, in line with its vision. MB Funds' aim is to support the entrepreneurs and the management of TietoAkseli in bringing even more professionals on board as part of the TietoAkseli team and in catalyzing the growth of the company while maintaining TietoAkseli's strong customer-centric approach and the personal service.", comments Kimmo Vanne, partner of MB Funds.
With the increased resources, the management of TietoAkseli plans to heavily invest in the growth in the coming years. To achieve the growth, new services will be launched, and further acquisitions will be considered.
"We have always wanted to offer the best forum for our customers and our professional team to succeed. We see significant growth opportunities and for pursuing those, we wanted to strengthen the company's ownership. The most important thing for us was to find the right partner who shares our values that are built on open and honest communication and our will to truly be a professional and customer-centric organization. We are convinced that MB Funds is the right partner for us to continue the story of our family company", states Samuel Akselin, CEO, TietoAkseli.
Closing of the transaction does not require competition authority's approval, and the closing is expected to take place during May 2021.
Further information:
Kimmo Vanne
Partner, MB Funds
+358 40 552 8398 or kimmo.vanne@mb.fi
Samuel Akselin
CEO, TietoAkseli Group
+358 103472 874 or samuel.akselin@tietoakseli.fi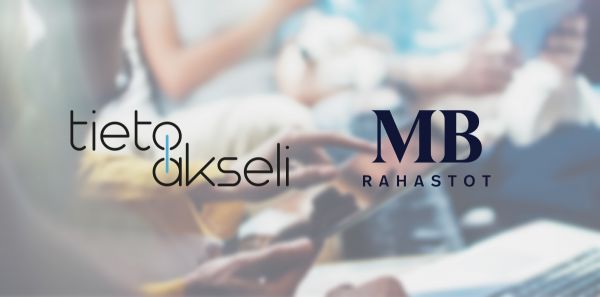 TietoAkseli briefly
TietoAkseli, established in 1991, is a Finnish specialist providing financial administration and accounting, HR and payroll, auditing as well as transaction advisory services for small and medium sized companies and organizations. TietoAkseli has net sales of 10 m€ and it serves its customers from seven offices in Finland with the help of a professional team of 140 employees. www.tietoakseli.fi
MB Funds briefly
MB Funds is the leading Finnish private equity investor founded in 1988. Total assets under MB Funds management stand at 0.5 billion euro with prime Finnish institutions as its main fund investors. MB Funds has successfully invested in approximately 40 mid-sized companies in the Nordics. www.mb.fi